Notifications
When faculty assigns a test to students, the student is notified via:
Email
System notification
Depending on how the test settings were configured by faculty, students may have a timeframe in which to submit their completed test(s). The 'View Tests' page, along with system-generated notifications and emails provides a method to help students prioritize their tests to ensure submission deadlines are met.
The following section will describe the student view for faculty-assigned tests.
System Notifications
Students will receive the following notifications when a test's start date and start time have been reached.
For this example, we'll use a Cardiology test assigned to Professor Harris's class which is assigned to three students.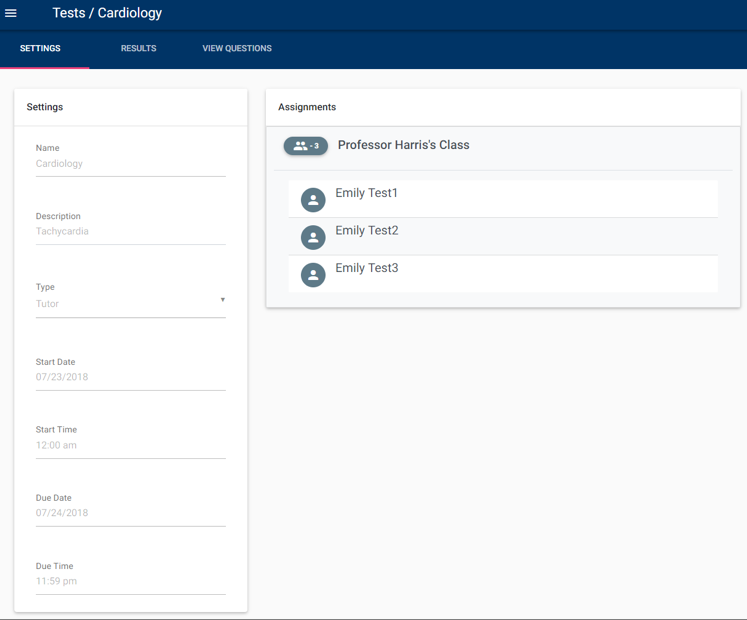 Students receive a system notification which displays in the client application. As more tests are assigned, the notification count indicator will increase. When a student submits a test, the count decreases & the notification is removed from the list.
Students will see the following information in these notifications:
Test name
Number of questions on the test
Due date & time
Action button
The action button provides students with a method for launching the test directly from the notification drop down list. The action button will display as either:
Begin. This text displays if the student is launching the test for the very first time.
Resume. This text displays on all subsequent launches.
When the student clicks on either of these options from the notification list, they are presented with the 'Get Started' page for the selected test.
The 'Get Started' page provides students with an overview of the:
Test type (timed, untimed, or tutor)
Number of test questions
Due date & time
Clicking 'Get Started' will redirect the student to the test interface where they can progress through the test.
Emails
Students also receive email notifications when a test is assigned; however, these notifications are sent as soon as the test is published, even if the test is future dated. This provides students with an immediate awareness to help them plan their time in advance of a test's start date.
Emails contain the following information:
Test name
Test type
Start date (if future-dated)
Due date (if configured)
Warning: If a test is future-dated and a faculty member decides to unpublish it before it begins, a subsequent email is not sent to the student.
Testing
When tests are assigned to students, the tests display on the students' 'View Test' page in the USMLE-Rx application once the due date and time (if configured) have been met. Faculty-assigned tests display with a purple cap icon. Student-created tests display with the associated test type icon.

Tests display in the following order:
Test Status

Description

Faculty-created

Past Due

Past due tests display at the top of the list, highlighted in pink.

Due Soon (or no Due Date)

Tests that are due soon, or that have no due date, display in yellow. Once submitted, it is moved down in the list and displays in white.

Completed

Completed tests appear in white and display further down in the list. Students will see different icons displayed that provide a method to view their test statistics or review the test.

Student-created

All test types (timed, untimed, tutor, simulations)

Student-created tests display beneath faculty-created tests and are sorted by created date.
Note: Questions on faculty-created tests do not decrease the number of questions in a student's Qmax 1 question bank; however, test scores from all tests (student and faculty-assigned) do impact the student's statistics on the Cumulative Analysis page.
Grading
Students should understand that grading is based on the following test type logic:
Timed. This test type is timed, and grading is based on the student's final answer.
Untimed. This test type has no time limit and grading is based on the student's final answer.
Tutor. This test type has no time limit, but grading is based on the student's first answer.
Warning: The following functionality is not available on tablets and/or mobile devices: Calculator, Lab Values, & Notes & Highlights. It is recommended that students take exams on a laptop or desktop so that full functionality is accessible.